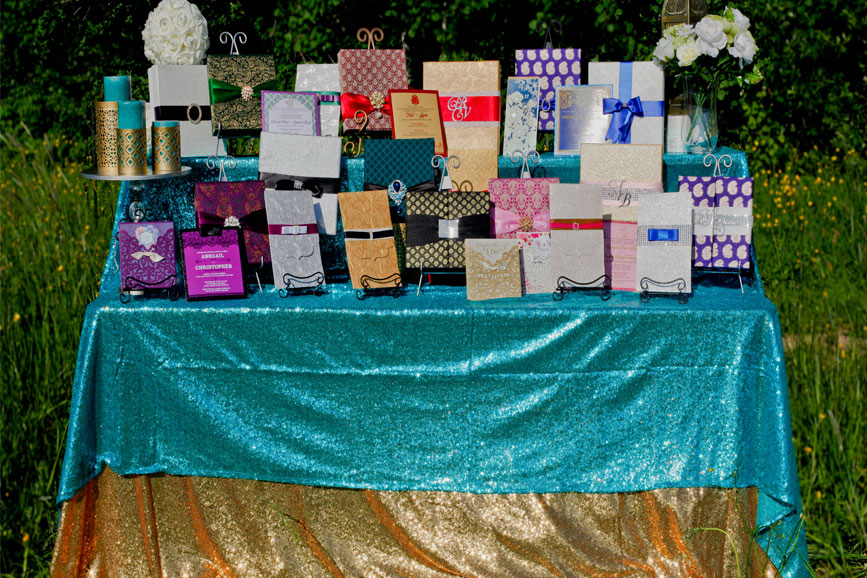 Weddings are a special and memorable time for couples and all their loved ones. Celebrating the union and commitment between two individuals and their families in front of all their loved ones, it's no wonder the planning process can be overwhelming and stressful. Countless time and effort is taken in selecting the perfect attire, venue, and decor and your invitation should be no exception. It plays an essential role as it sets the stage for the day to come and is truly the first step in creating an unforgettable event.

At Peacock Invites, our passion is to create exceptionally designed invitation suites that are meaningful, unique, and awe-inspiring. We will collaborate with you to design the perfect invitation suite that represents you, your event, and connects with your guests. We find joy in creating a one-of-a-kind wedding invitation suite that will make a statement, impress your guests and create excitement even before your wedding celebrations begin!

We're committed in making the invitation process an enjoyable experience! With our design process in place, you can be assured that our team will provide thoughtful attention to accuracy, quality workmanship, and ensure that every last detail is taken care of in creating a meaningful custom invitation suite. With our three unique collection lines, there is an invitation suite that is made just for you. Our collection line has been carefully and thoughtfully designed to suit the needs and tastes of our high-end luxurious clients to our classic and elegant clients. Customization is endless. Incorporating your unique style with typefaces, embellishments, personalized monograms, color combinations, you choose to incorporate will truly make your invitation one-of-a-kind. We will collaborate and transform your ideas into beautiful designs that speak to your personality, showcase your style, and represent your upcoming wedding.

So let your invitation be something you're proud of and can't wait to get out to family and friends. Let your invitation be admired by your guests as they get a glimpse of your big day to come. Let your invitation be a keepsake for you to cherish for years to come.

Congratulations on your upcoming wedding and we look forward to being a part of your wedding planning!